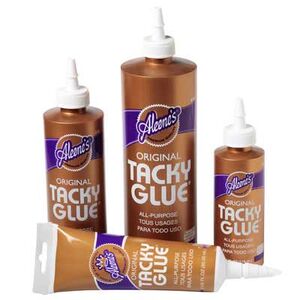 Aleene's® Original Tacky Glue is one of the most recognized and trusted crafting adhesives in the market. For over 60 years, consumers have been creating with Aleene's® Original Tacky Glue because they trust the brand as the gold standard of crafting glues. Original Tacky Glue is considered the ultimate in glues because it is incredibly versatile and reliable.
Ideal for craft and household use.
Dries clear and flexible.
Cleans up with water.
Non-toxic formula
Recommended for all craft and hobby surfaces including:

paper
fabric*
ribbon
arts and crafts

(not intended for washable wearables)
How to Use Aleene's Original Tacky Glue
Edit
On wood, pottery and semiporous materials, spread on a heavy coat, weight or clamp, and let set 30-40 minutes.
While glue is wet, remove excess glue with a damp cloth.
Not intended for washable wearables.
Always test for best results.
Tips & Techniques for Aleene's Original Tacky Glue
Edit
Aleene's Original Tacky Glue can be used on non-washable fabrics. If you are working with a light or delicate fabric and the glue soaks through, apply glue to the fabric and let it set for five minutes before attaching it to the project. Wait another five minutes before firmly pressing it in place.
Use Original Tacky Glue to achieve a ceramic finish when creating bread dough modeling projects. (If you desire a porcelain finish, use Aleene's Easy Flow Tacky Glue)
For brush-on product, clean mouth of jar before closing.
Be sure product is tightly sealed for storing.
Ad blocker interference detected!
Wikia is a free-to-use site that makes money from advertising. We have a modified experience for viewers using ad blockers

Wikia is not accessible if you've made further modifications. Remove the custom ad blocker rule(s) and the page will load as expected.