Description
Edit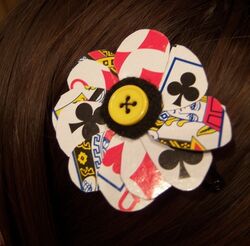 A hairclip fit for the queen of hearts. ^_^
Type of Craft
Edit
Paper crafts
Difficulty Level
Edit
Easy
Supplies Needed
Edit
- Hair Clip(s)
- Deck of Cards
- Needle and Thread
- Stapler
- Button(s)
- Glue
- Scissors
Directions
Edit
1. Cut lots of little teardrop shapes out of the cards. Arrange them in a flower shape and staple them together.
2. Sew the hairclip onto the back and also glue it in place for more stability.
3. Attach the button in the middle, and there you go. You're done and it's ready to wear!
Additional Photos
Edit
Ad blocker interference detected!
Wikia is a free-to-use site that makes money from advertising. We have a modified experience for viewers using ad blockers

Wikia is not accessible if you've made further modifications. Remove the custom ad blocker rule(s) and the page will load as expected.