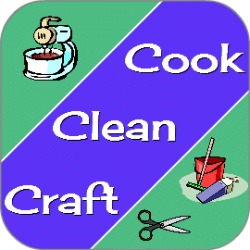 Cook Clean Craft is a blog written by Narelle (an engineer-turned-mum of 2 and homemaker), dedicated to providing tools for the modern domestic engineer:
Recipes to get dinner on the table on time (or maybe for an indulgent treat when it's time to put your feet up!); 
Tips and tricks to keep your house clean, tidy and organised (except for behind that door – well, no one's perfect); 
Inspiration and tutorials for creating from fabric, felt, yarn, cardboard and more (craft projects for family and friends, home, and occasionally even yourself). 
Join my adventures in engineering a happy home.
Ad blocker interference detected!
Wikia is a free-to-use site that makes money from advertising. We have a modified experience for viewers using ad blockers

Wikia is not accessible if you've made further modifications. Remove the custom ad blocker rule(s) and the page will load as expected.