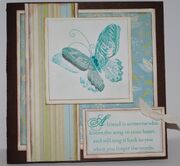 Hello my name is Ann Marie Lessner and I am an Independent Consultant with Close To My Heart. I love to stamp and scrapbook and would love to teach you how to preserve your memories.
I have had my blog for about a year and have been with Close To My Heart for over 3 years now. I am also a certified scrapbooking and stamping teacher. I hope you visit my blog at http://www.creativeramblings345.blogspot.com/
Ad blocker interference detected!
Wikia is a free-to-use site that makes money from advertising. We have a modified experience for viewers using ad blockers

Wikia is not accessible if you've made further modifications. Remove the custom ad blocker rule(s) and the page will load as expected.