Description
Edit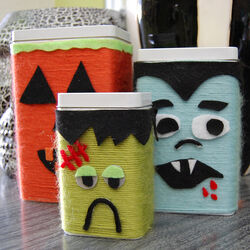 Got some empty canisters you want to get rid of? Need a place to store Halloween candy and treats? Presenting the creepy creature canisters, the brainchild of Jennifer Perkins on ilovetocreate.com.
Type of Craft
Edit
Other
Difficulty Level
Edit
Very Easy
Supplies Needed
Edit
Set of Canisters
Sheep(ish) yarn
Felt
Scissors
Aleene's Tacky Glue
Directions
Edit
1.) wrap the entire canister in yarn, and use glue occasionally to keep the yarn in place. 2.) Adorn the yarn-covered canisters with felt in whatever shapes you like to create faces of Halloween ghouls.
Additional Photos
Edit
Ad blocker interference detected!
Wikia is a free-to-use site that makes money from advertising. We have a modified experience for viewers using ad blockers

Wikia is not accessible if you've made further modifications. Remove the custom ad blocker rule(s) and the page will load as expected.