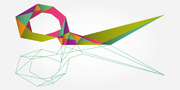 Footprints on the Moon is the craft & DIY fashion blog of Rachel Humbrecht: a Pittsburgh based multi-media artist. Her blog features many inspiration posts to get the creative juices flowing and lots of apperal and fashion DIYs. Whether you're looking for crocheting, dressmaking or even some graphic design, this blog has a lot to offer for any creative individual. Come on in and take a look around!
Ad blocker interference detected!
Wikia is a free-to-use site that makes money from advertising. We have a modified experience for viewers using ad blockers

Wikia is not accessible if you've made further modifications. Remove the custom ad blocker rule(s) and the page will load as expected.