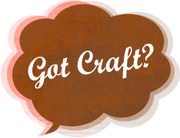 Got Craft? is the blog for the craft fair of the same name. The fair was started in 2007 by Andrea and her husband Rob. Got Crafts? is a modern twist on the conventional craft fair. The very first event was held in May 2007 at the Western Front with 20 vendors and 500 attendees. The event has now grown to over 55 local handmade vendors and 1700 people through the doors in one day.
Got Craft? aims to bring together a community that fosters handmade and DIY culture by supporting events such as DIY night at the Museum of Vancouver, the Vancouver Premiere of Handmade Nation and Swap-O-Rama-Rama.
When they are not writing for the Got Craft blog or lotus events blog, Andrea and Robert also curate the DIY Vancouver blog on Granville Online featuring tutorials and local shops that sell handmade.
What is lotus events? Rob and Andrea are the co-owners of lotus events, an event management and wedding coordination company that produces events such as Got Craft? and Indie I Do. For more information, please visit the lotus events website.
Ad blocker interference detected!
Wikia is a free-to-use site that makes money from advertising. We have a modified experience for viewers using ad blockers

Wikia is not accessible if you've made further modifications. Remove the custom ad blocker rule(s) and the page will load as expected.