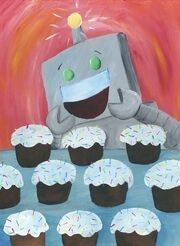 Hearts and Laserbeams™
is the art and design of Long Beach artist Steph Calvert. Check out Steph's blog for weekly updates about life, gardening, chickens, and of course, arts and crafts!
Steph Calvert was one of the founders of the Long Beach Craft Mafia in 2007, and from 2009-2011 wrote the Gettin' Made blog posts for OC Weekly, bringing indie arts and crafts news about Orange County and beyond to website visitors.
Ad blocker interference detected!
Wikia is a free-to-use site that makes money from advertising. We have a modified experience for viewers using ad blockers

Wikia is not accessible if you've made further modifications. Remove the custom ad blocker rule(s) and the page will load as expected.