Professionally trained as an architect, Vana Chupp has always been artistically inspired by the sweet and simple moments in life. Her craft was born with the birth of her beautiful boy Nikolas. Documenting her son's milestones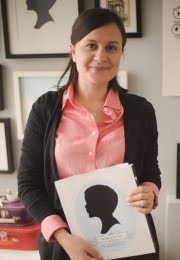 by cleverly capturing his personality, emotion, playfulness and essence, she began using silhouettes to tell her own life story. It's a love story - continuing to blossom, with Nikolas as her muse. Coming full circle, Vana was able to combine her passion and artistic experience and share it all with you! In 2008 Vana launched her dream job;
Le Papier Studio
, a small woman-owned business that expresses creativity and inspiration, all the while giving her time to fulfill her most important job; being a mom.
Vana recently completed writing Silhouette Art - a book featuring instructions, papers and patterns for making modern heirlooms published and released by Chronicle Books in Fall 2010. Read more about Vana, her products and services here.
Ad blocker interference detected!
Wikia is a free-to-use site that makes money from advertising. We have a modified experience for viewers using ad blockers

Wikia is not accessible if you've made further modifications. Remove the custom ad blocker rule(s) and the page will load as expected.