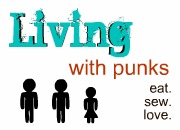 Living with Punks is a craft blog written by Susan Phillips of California. Susan is a stay at home mom (for the most part), and loves to sew and craft. Susan writes weekly DIY articles for the Momtastic website and offers help where ever she can to crafters everywhere.
Ad blocker interference detected!
Wikia is a free-to-use site that makes money from advertising. We have a modified experience for viewers using ad blockers

Wikia is not accessible if you've made further modifications. Remove the custom ad blocker rule(s) and the page will load as expected.