Description
Edit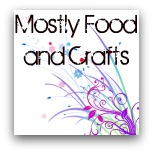 Mostly Food and CraftsMy name is Danielle and I am a SAHM who loves to cook and craft for and with my kids. I have a lot of projects ton my site that I have done with the kids and some that I have done on my own. Be sure to stop by and check it out.
Type of Craft
Edit
Difficulty Level
Edit
Supplies Needed
Edit
Directions
Edit
Additional Photos
Edit
Ad blocker interference detected!
Wikia is a free-to-use site that makes money from advertising. We have a modified experience for viewers using ad blockers

Wikia is not accessible if you've made further modifications. Remove the custom ad blocker rule(s) and the page will load as expected.