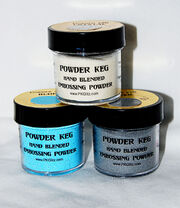 Powder Keg Embossing Powders are Hand Blended Colors from the finest powders available. All colors are rich and high gloss for today's art and artist. Jars are 1oz by volume.
Visit our store for more information http://store.pkglitz.com
Ad blocker interference detected!
Wikia is a free-to-use site that makes money from advertising. We have a modified experience for viewers using ad blockers

Wikia is not accessible if you've made further modifications. Remove the custom ad blocker rule(s) and the page will load as expected.