Description
Edit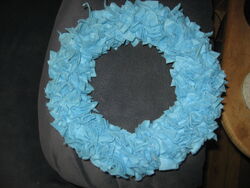 This is a wreath made from a blanket.
Type of Craft
Edit
Other
Difficulty Level
Edit
Very Easy
Supplies Needed
Edit
Foam Wreath form Fabric/old t-shirt/receiving blanket White glue skewer or something to press into the foam wreath
Directions
Edit
Cut "fabric" into random sections square/rectangle. Place on end of "poker" Dip end in white glue press into wreath form until you are happy with the looks Let dry and embellish as you wish hang for all to enjoy!
Additional Photos
Edit
Ad blocker interference detected!
Wikia is a free-to-use site that makes money from advertising. We have a modified experience for viewers using ad blockers

Wikia is not accessible if you've made further modifications. Remove the custom ad blocker rule(s) and the page will load as expected.