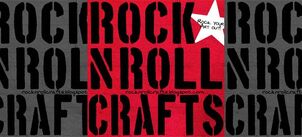 Rock n Roll Crafts was created by Elaine Elwick Barr in 2007. Elaine lives in Petaluma, CA and is a super star crafter.
In Elaine's words: Rock n Roll Crafts is not for the faint of heart, but for the lover of all things rocked out. She has been know to go on craft benders that don't stop till her hands are bleeding. :) Be sure to check in often..you never know, well she never knows, when she'll be posting next! :)
Ad blocker interference detected!
Wikia is a free-to-use site that makes money from advertising. We have a modified experience for viewers using ad blockers

Wikia is not accessible if you've made further modifications. Remove the custom ad blocker rule(s) and the page will load as expected.