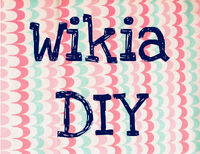 Are you following Easy Crafts on Twitter? Do we have big news for you! We at
Easy Crafts
are going to be expanding our twitter account in the next few months to include not only crafts, but also anything
DIY
! So if you want all the latest tips, tricks, and trends, follow us at the new and improved
@WikiaDIY
!
Wondering what we mean by DIY? Well, we have a huge network of growing do-it-yourself wikis that we want to highlight! So you can expect to see amazing photos and the latest camera models from Camerapedia, chic and sometimes kitschy vintage sewing patterns courtesy of our Vintage Patterns Wiki, and much much more! Follow us today!
Ad blocker interference detected!
Wikia is a free-to-use site that makes money from advertising. We have a modified experience for viewers using ad blockers

Wikia is not accessible if you've made further modifications. Remove the custom ad blocker rule(s) and the page will load as expected.