Every year Maker Faire seems to get bigger and bigger with more awesome crafters, vendors, makers, robots, and
mobile cupcakes.
This year Maker Faire will be happening at the San Mateo Events Center on May 21st & May 22nd. You can buy tickets
here.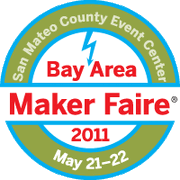 If you haven't been before it's definitely worth the trip and if you have been I'm sure I don't need to convince you to go back. There's so much to take in, two days never feels like enough time to do it all. As always I'm looking forward to checking out all of the crafty vendors at the
Maker Bazaar Bizarre
and
Swap-o-rama-rama
. Hopefully I'll see you there!
Christina l 00:27, April 2, 2011 (UTC)
Ad blocker interference detected!
Wikia is a free-to-use site that makes money from advertising. We have a modified experience for viewers using ad blockers

Wikia is not accessible if you've made further modifications. Remove the custom ad blocker rule(s) and the page will load as expected.