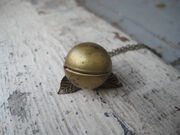 All good things must come to an end...including Harry Potter! Although it feels like the end of an era, don't shed a tear for Harry Potter and his crew quite yet. There's still butterbeer to drink, books to re-read and re-live, and movies to watch over and over again! We just want the magic to continue right!?
To lift your spirits, our very own Easy Crafts Wiki is giving away this one of a kind, hand-crafted Golden Snitch necklace, designed by Polly Conway, crafter and avid Harry Potter fan! And that's not all! Courtesy of Wikia's swag from Comic-Con, we're also giving away a Harry Potter The Forbidden Forest Lego Set AND a San Diego Comic-Con 2010 Exclusive Metal Card Set (two Gryffindor crests, Quidditch crest, and Seeker crest) from Harry Potter and the Half-Blood Prince!
To win these amazing prizes, leave a comment on this awesome Harry Potter Banner Tutorial at Easy Crafts Wiki: Tell us how you will continue to celebrate Harry Potter in your life!
Ad blocker interference detected!
Wikia is a free-to-use site that makes money from advertising. We have a modified experience for viewers using ad blockers

Wikia is not accessible if you've made further modifications. Remove the custom ad blocker rule(s) and the page will load as expected.