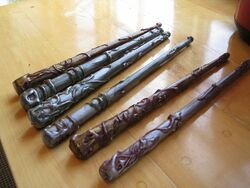 Chances are that if you're a die-hard Harry Potter fanatic, you've wanted your very own wand from Ollivanders as long as you can remember. While you may not be able to access Daigon Alley on your own, you can have your very own customized wand! Check out these awesome wands (made from just paper and glue!) from Your Life Uncommon Blog!
These will be fun crafts for your kids AND you can even customize the colors! I can't get over how durable and wood-like they look. Will you be trying these at home? Find the entire tutorial here!
Ad blocker interference detected!
Wikia is a free-to-use site that makes money from advertising. We have a modified experience for viewers using ad blockers

Wikia is not accessible if you've made further modifications. Remove the custom ad blocker rule(s) and the page will load as expected.