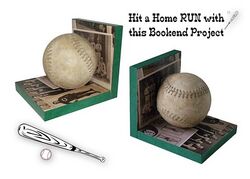 Looking for a fun, creative way to sort your books? Check out these cool baseball bookends from Man Podge Walter! If you have anyone in your life with a passion for sports, especially baseball, these may be the perfect gift idea!
Check out the tutorial and step-by-step instructions on Mod Podge Rocks Blog. Of course the bookend can be replicated with any hobby you like, be it sports or food!
Ad blocker interference detected!
Wikia is a free-to-use site that makes money from advertising. We have a modified experience for viewers using ad blockers

Wikia is not accessible if you've made further modifications. Remove the custom ad blocker rule(s) and the page will load as expected.