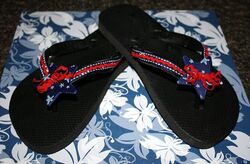 Will you be entertaining this Fourth of July? Or perhaps looking to fête your patriotic spirit? Easy Crafts has some perfect patriotic decor ideas for you! Check out our Stars and Stripes Pillow, trendy flip-flops, pinwheel, and patriotic apron!
Looking for even more Independence Day craft ideas? Check out these gorgeous stars, hand-crafted by Lisa Storms! If you're looking for simple tips on how to brighten up your BBQ or baked goodies, you'll love these customized stars on...
Gallery
Be sure to pick up tricks and tips on how to recreate them at Fiskars!
Ad blocker interference detected!
Wikia is a free-to-use site that makes money from advertising. We have a modified experience for viewers using ad blockers

Wikia is not accessible if you've made further modifications. Remove the custom ad blocker rule(s) and the page will load as expected.