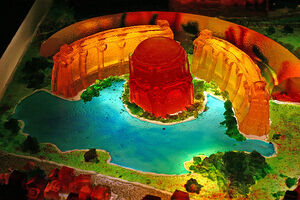 Who would have thought that the humble (and delicious) Jell-O could be made into art! At the Jell-O Mold Competition, Jell-O enthusiasts gather to do just that: showcase their delicious and beautiful jello. Not only are the competitors judged on the taste and texture of jello, but also on creativity, aesthetics, "structural/sculptural ingenuity," "edibility/culinary appeal," "and best use and showcase of Jell-O." Basically, the Jell-O must be delicious, beautiful, creative, AND be artistically rendered. A very tall order, but the video below shows that Jell-O fans exceed expectations.
This year, the Jell-O Competition is held in Brooklyn, New York with a grand prize of $400! In addition, the winner will also get a year's membership to "Cooper-Hewitt, National Design Museum, gifts from Papabubble, Holstee, and more!" If you live in New York and wish to enter this enticingly fun competition, you must register by today! If you just want to check out Jell-O's day in the sun, it's open to the public!
Watch the video below and see what amazing things can be done with jello! I'm totally wowed by the cups made from Jell-O myself. Basil lemonade jello in a basil cup?? Yes, please! Bloody Mary Virgin Jell-O? Cheeky and delicious!
Video
Ad blocker interference detected!
Wikia is a free-to-use site that makes money from advertising. We have a modified experience for viewers using ad blockers

Wikia is not accessible if you've made further modifications. Remove the custom ad blocker rule(s) and the page will load as expected.