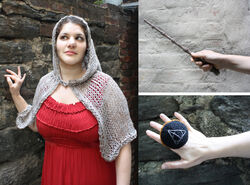 If you're a fan of the Harry Potter series, you may have a hankering to practice magic just like the young wizards of Hogwarts. And if you watched the last Harry Potter movie and read the book, you may be coveting the awesome power of the Deathly Hallows. After all, who wouldn't want an Invisibility Cloak or an unbeatable wand of destruction to do your every bidding? With the help of the awesome crafty people at Craftzine, you just may well be the lucky owners of all THREE of the Deathly Hallows!
Lion Brand is offering tutorials for making yarn versions of the Invisibility Cloak, Elder Wand, and Resurrection Stone, as seen on the right. They will even be encased in a "shimmering glow" for a magical effect if you knit the items with Vanna's Glamour Yarn. We're pretty partial to the Elder Wand...it looks just like the real thing, doesn't it!?
What do you think, Harry Potter crafters? Will you be recreating these magical items for yourselves?
Ad blocker interference detected!
Wikia is a free-to-use site that makes money from advertising. We have a modified experience for viewers using ad blockers

Wikia is not accessible if you've made further modifications. Remove the custom ad blocker rule(s) and the page will load as expected.