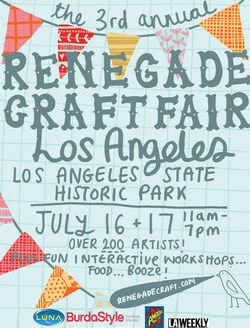 Hey Crafters!
The Renegade Craft Fair officially kicked off this month and is making its rounds around various cities! Last weekend, RCF came to San Francisco; be sure to check out Wikia's amazing video recap of the event! This weekend, from July 16-17, RCF will be in Los Angeles for their third annual fair!
RCF has something for everyone: whether you want to get crafty and make something creative, tailor your clothes (fashionistas should take note of Swap-o-Rama-Rama to custom create something from old and new pieces alike!), or pick up something unique and curated specially by RCF! Be sure to keep your eyes peeled for those free raffle drawings!
Check out the list of vendors that will be available in LA; will you be attending the Fair this year?
Ad blocker interference detected!
Wikia is a free-to-use site that makes money from advertising. We have a modified experience for viewers using ad blockers

Wikia is not accessible if you've made further modifications. Remove the custom ad blocker rule(s) and the page will load as expected.