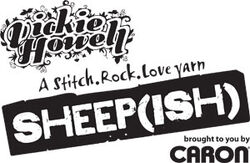 Hey crafty folks! We wanted to highlight Vickie Howell's work today because she's a total craft superstar! For those who haven't heard of her, she was the host of DIY Network's Knitty Gritty! Just this week, this busy lady launched her new line of yarn called Stitch.Rock.Love Sheepish! Check out some of Vickie Howell's work and her new line of yarn in the gallery!
Yarn
Blog Tour
To commemorate her huge success, Vickie will be having a blog tour for 2 1/2 weeks, so make sure you follow her here:
Video
Ad blocker interference detected!
Wikia is a free-to-use site that makes money from advertising. We have a modified experience for viewers using ad blockers

Wikia is not accessible if you've made further modifications. Remove the custom ad blocker rule(s) and the page will load as expected.