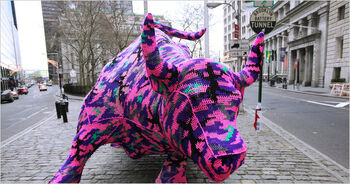 What is yarn bombing, you ask? For those unfamiliar with the term, check out the picture of the massive pink and purple bull. Yes, that is the Wall Street "Charging Bull."
An artist named Olek decided to spruce up this statue by covering the bull with a fuchsia yarn cozy. Clever, no? And she's not the only one.
Unlike the act of conventional vandalism that defaces works of art of even common streets, "yarn bombing," also known as "grandma graffiti," is a more "maternal," gentler form of graffiti. It's not permanent (they often fray within weeks) and it's the feminine counterpart to the male-dominated scene of tagging and graffitis.
These days, yarn bombing is a pop-culture icon and a "global phenomenon, with yarn bombers taking their brightly colored fuzzy work to Europe, Asia and beyond. In Paris, a yarn culprit has filled sidewalk cracks with colorful knots of yarn. In Denver, a group called Ladies Fancywork Society has crocheted tree trunks, park benches and public telephones. Seattle has the YarnCore collective ("Hardcore Chicks With Sharp Sticks") and Stockholm has the knit crew Masquerade. In London, Knit the City has "yarnstormed" fountains and fences. And in Melbourne, Australia, a woman known as Bali conjures up cozies for bike racks and bus stops."
It's gotten so popular that even companies are taking notice. Recently, Toyota hired a yarn-bomber to knit a sweater for a Prius in a promotional video! How adorable! Check out the video to see how it's done. Whether it's a DIY movement or a full-fledged business, it's having a moment.
If anyone reading this is an avid knitter, perhaps your next project shouldn't be a sweater or a legwarmer, but a statue or an ugly telephone booth! If you need help avoiding detection from the law, be sure to dress like ninjas and steal away in the dark of the night! There are helpful hints in "Yarn Bombing: The Art of Crochet and Knit Graffiti."
What do you think of this retro movement? Fascinating, amazing, creative? Is it something you would like to try out? Read this article at New York Times for more information!
Video

Kate.moon 22:16, May 19, 2011 (UTC)
Ad blocker interference detected!
Wikia is a free-to-use site that makes money from advertising. We have a modified experience for viewers using ad blockers

Wikia is not accessible if you've made further modifications. Remove the custom ad blocker rule(s) and the page will load as expected.