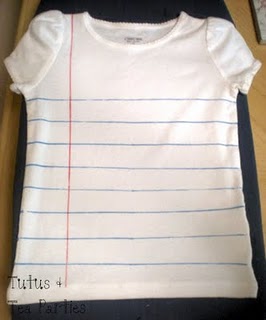 Remember your first day of school, and how excited you were about picking out your first outfit of the year? Maybe it was a pair of Limited Too Bellbottoms, or the newest light-up velcro sneakers. Now, you can help your own kid make this difficult decision by making this adorable notebook shirt shown on the blog Tutus & Tea Parties. This crafty mom put together a shirt with a notebook print, perfect for the first day of school. She says it's a great idea for both boys and girls, depending on what kind of shirt you get--and perhaps this would even make a cool mom-daughter project for a teenage girl who wants a funky new tank top.
The creator of this cool craft is also having a giveaway for the cute shirt. Check it out here.
Source: Tutus & Tea Parties
Ad blocker interference detected!
Wikia is a free-to-use site that makes money from advertising. We have a modified experience for viewers using ad blockers

Wikia is not accessible if you've made further modifications. Remove the custom ad blocker rule(s) and the page will load as expected.