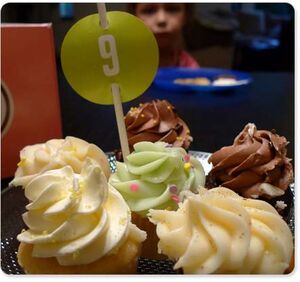 Cupcakes are all the rage these days, and people are getting more and more creative with these confectionary treats. Not only are people choosing awesome new flavors like Guinness cupcakes or Peanut Butter and Jelly cupcakes, but folks have turned toward interesting new methods of decoration, such as DIY cupcake toppers.
Blogger Ginny Figler said that when she was celebrating her ninth wedding anniversary, she wanted to buy cupcake toppers with the number "9" on them. However, these toppers ended up costing about the same amount as the cupcakes themselves--definitely not worth it.
Instead, in her blog post she teaches us how to make our very own DIY cupcake toppers.
While she used the number "9" for her anniversary, you could pretty much use anything. Perhaps for your next get-together with friends, different Facebook pictures of you guys on each topper? Or for a baby shower, pictures of pacifiers or teddy bears. It's all up to you, and that's what makes DIY desserts so much fun.
Source: Shelterrific.com
Ad blocker interference detected!
Wikia is a free-to-use site that makes money from advertising. We have a modified experience for viewers using ad blockers

Wikia is not accessible if you've made further modifications. Remove the custom ad blocker rule(s) and the page will load as expected.