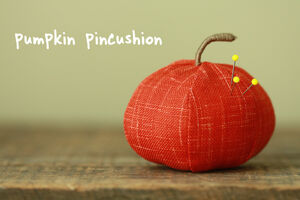 Whether you like it or not, fall means the inclusion of pumpkin into everything you have, from your lattes, to your desserts, to your crafting. But some pumpkin crafts are great for year-round use. Ellen Lucket Baker, author of The Long Thread, came up with an idea for an adorable pumpkin pincushion, perfect for sewing enthusiasts. You can find the instructions here at whipup.net. Plus, if pumpkins aren't your thing, you can easily alter the fabric to make an apple or tomato pincushion instead.
Ad blocker interference detected!
Wikia is a free-to-use site that makes money from advertising. We have a modified experience for viewers using ad blockers

Wikia is not accessible if you've made further modifications. Remove the custom ad blocker rule(s) and the page will load as expected.