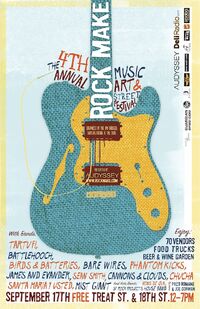 Crafters and musicians unite! The Rock Make street festival is in the Mission district in San Francisco tomorrow, September 17. Get ready for local musicians and rock bands, some of which are run by children (a must-see!), food from local vendors, and hundreds of arts and craft vendors! Whether you are a fan of crafting, a master crafter, or just love good music and food, this is a great event to check out.
Rock Make is a free event and will be happening on Treat Street between 18th & 17th Streets. There will be over 70 vendors including 8mm Ideas, 3 Fish Studios, Romey Designs, and more! Food Trucks and beer & wine will also be available.
Source: Rockmake.com
Ad blocker interference detected!
Wikia is a free-to-use site that makes money from advertising. We have a modified experience for viewers using ad blockers

Wikia is not accessible if you've made further modifications. Remove the custom ad blocker rule(s) and the page will load as expected.