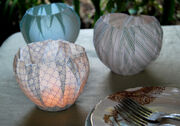 Summer is here! As the weather warms up and the days get longer, we begin looking for fun summer crafts. On this wonderful day of summer solstice what, you ask, could be better than enjoying a nice evening outside on the longest day of the year? Enjoying it with these fabulous fabric
lanterns
from Kelly Wilkinson's
Make Grow Gather
blog of course!
These lanterns are super easy to make and barely require more than a balloon and scraps of fabric. All you need is: fabric scraps (at least 12 inch square per lantern), scissors, balloons (one per lantern), jar lid, scotch tape, fabric stiffener or glue and water (2 glue: 1 water), a bowl, a cup, a rubber band, and a pin.
Most of us have these things lying around at home, making this project easy and cheap. The shape of the lantern comes from the jar lid, the balloon and the cup. The fabric is soaked in the glue and water and then wrapped around the balloon set-up. After the fabric is secured it needs to dry for a few hours. With some trimming, the lantern is now ready to be lit up and enjoyed all summer long! What would you use these lanterns for?
Check out these photos from Kelly's blog:
And be sure to visit Make Grow Gather to learn more about Kelly!
Source: makegrowgather.com
Ad blocker interference detected!
Wikia is a free-to-use site that makes money from advertising. We have a modified experience for viewers using ad blockers

Wikia is not accessible if you've made further modifications. Remove the custom ad blocker rule(s) and the page will load as expected.