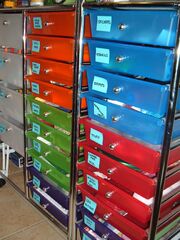 Lately anytime I sit down to craft I end up getting up and down continuously in order to retrieve forgotten and misplaced supplies. My crafting boxes have gotten out of control and this system in inhibiting my crafting abilities.
Spring cleaning is no longer just for the cobwebs and finally organizing the garage. It is also the perfect time to get your crafting supplies organized for your next project. Rather than searching through the fabric pile for the missing bottle of glue spend a little bit of time and next time you decide to craft you will reap the rewards.
I decided to create a spot for everything and add labels (also an excuse to color labels for them with my favorite markers). For example I designated a small box as the glue or adhesive box and then put all glues, sticky stuff, and other attaching devices in the box. So now when i need something attached I just have to open my glue box and choose the one that is best for my needs.
Rather than spending unnecessary time searching for the pliers I need or the specific blue thread I will now know where things are when I need them. This will allow my crafting to be less stressful and give me more time to focus on my creativity and having fun: what crafting is all about.
So get out the labeler and get organized. Happy Crafting!
Ad blocker interference detected!
Wikia is a free-to-use site that makes money from advertising. We have a modified experience for viewers using ad blockers

Wikia is not accessible if you've made further modifications. Remove the custom ad blocker rule(s) and the page will load as expected.