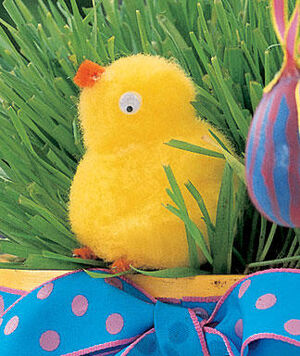 Somehow Easter always sneaks up on me! I know it comes towards the end of April on a Sunday and then there it is. But this year I am on top of it and you can be too! There are a ton of great craft ideas for Easter crafts on the web and many on the wiki as well.
Here are a few fun ideas to get your crafting started:
1)Get creative with your eggs! Turn them into a Bluebird Egg, a Pink Pig Egg, or make some Ribbon Wrapped Easter Eggs.
2) Use candy to make decorations. These Jellybean Carrots are adorable and yummy! Or you can use the classic easter treat to create PEEPS in Nests.
3) If you want a slightly more advanced, non-edible project you could Sew an Easter Bunny. It is pretty simple and kids will love it!
For more ideas check out our list of easter crafts. Happy egg hunting and have a fabulous, crafty Easter!
Ad blocker interference detected!
Wikia is a free-to-use site that makes money from advertising. We have a modified experience for viewers using ad blockers

Wikia is not accessible if you've made further modifications. Remove the custom ad blocker rule(s) and the page will load as expected.