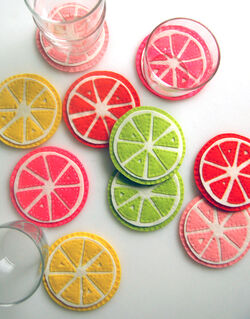 Summer is here! With beach days and pool parties we want crafts that we can take with us on our summer adventures. These bright, portable coasters from
Molly's sketchbook
, a section on
The Purl Bee
website, are the perfect project to kick off your summer!
Using felt makes these coasters easy for hand sewing and sewn to last. Molly explained that because the coasters are hand sewn each one is unique and the bright colors remind her of real citrus fruit.
This project does not require a lot of materials. All you need is brightly colored felt, embroidery thread, scissors, a sewing needle, and pins. The Purl Soho store sells bundles of felt online, Molly used the spring felt bundle for this project. The template for the project is available for free on the website.
This easy summer craft is a great way to cheer up your table this summer. So make some pink lemonade and get started today and make sure to check out Molly's post on The Purl Bee website for more information on this fabulous summer craft.
Sources:
Ad blocker interference detected!
Wikia is a free-to-use site that makes money from advertising. We have a modified experience for viewers using ad blockers

Wikia is not accessible if you've made further modifications. Remove the custom ad blocker rule(s) and the page will load as expected.