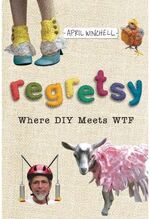 When exploring the Internet crafting world we have all come upon etsy and see the items for sale that fellow crafters have made. It is the eBay of handmade goods being sold by their makers. While there are so many beautiful items that are bought and sold everyday there are also some items that are repetitive or just plain silly. The website Regretsy highlights these items and provides commentary as well. From making fun of ugly clothing items and their models to poking fun at the trends or claims that an item is "one of a kind" or "vintage."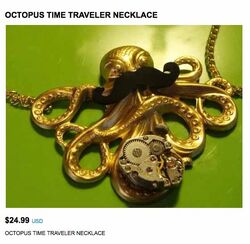 Trends in the craftosphere are inevitable but recently there was a surge of octopus jewelry. From octopussy pendants, with a cats head on an octopus, to an octopus with a mustache and clock parts these sea creatures are all the rave. Almost every one of the 13 posts used the word "unique." These octopus pendants can be bought on hobby lobby for $4.99 or you can pay up to $75 for a "unique" piece of steampunk octopus jewelry.
But chrysanthemums are the new octopuses. One of the most recent posts is about rings made from small colored, plastic chrysanthemums and filigree adjustable rings. The artist says in the posting that the rings are "one-of-a-kind" and "once they are gone they are gone forever!" Then proceeds to show 15 virtually identical rings except with different colored flowers and different display. These resin flowers can be bought in packs of 100 for about $20 and each ring is going for about $10-$15.
While I am not against etsy in any way I find the satire of regretsy to be hilarious and worth a read. But I will continue to look at both sites, always questioning if each post on esty could be ridiculous enough to make it to regretsy.
Ad blocker interference detected!
Wikia is a free-to-use site that makes money from advertising. We have a modified experience for viewers using ad blockers

Wikia is not accessible if you've made further modifications. Remove the custom ad blocker rule(s) and the page will load as expected.