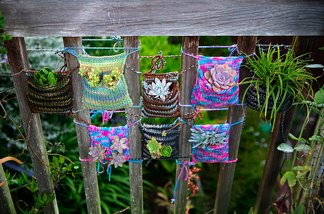 In the past year, you may have come across the craft activity of Yarn Bombing, dubbed "Graffiti's cozy, feminine side" by the New York Times. It's a form of street art that uses the power of knitting rather than spray painting to express oneself, and has become an international sensation in recent times as a hobby for adventurous women. Our own Kate.moon wrote a blog post about the subject back in May.
So, what do you get when an avid yarn bomber is married to a green thumb? Well, you get a new craft activity, and it's called Plant Bombing, naturally. Knitting enthusiast Heather Powazek Champ and her plant loving husband Derek Powazek have teamed up to ingeniously advance the art of yarn bombing to incorporate plant life. Heather knits colorful little pockets, Derek fills them with soil and plants, and the couple hang the creations up all over San Francisco, making fences and posts a million times more whimsical and pleasing to the everyday passerby.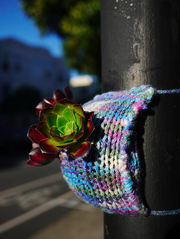 Heather has detailed instructions on how to knit these pocket planters on your own, and it can be assumed that the couple are encouraging interested parties to adopt the plant bombing project in their own hometown. So get out your yarn box, head over to the garden center, and get to work!
Photos by Derek Powazek
Ad blocker interference detected!
Wikia is a free-to-use site that makes money from advertising. We have a modified experience for viewers using ad blockers

Wikia is not accessible if you've made further modifications. Remove the custom ad blocker rule(s) and the page will load as expected.