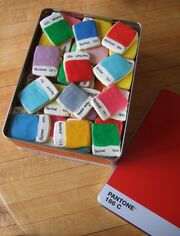 In the mood to create a fun and easy craft? Tired of using the same old materials? Then perhaps you should think about getting inspired by Pantone. Maybe you are new to the world of design and have never heard of Pantone, Inc. It's a great company that is based in New Jersey and known for its Color Matching System.
But the use of Pantone products is absolutely unlimited - from Color Cues, to Flash Drives, Rugs, and more.
Pantone is also responsible for the selection of Color of the Year and Colorstrology. Each day of the year is given a unique color that is suppose to represent the person's personality. So say you were born on October 23 your birthday color would be Heirloom Lilac or if you were born on August 12th your color would be Flamingo.
For more ideas of what you can do with Pantone products please check out this gallery which shows handmade Pantone inspired creations. Be sure to head over to thePantone Wiki for a chance to win a Pantone prize pack of journals and postcards. And if you've created anything inspired by Pantone be sure to add it to the wiki!
Ad blocker interference detected!
Wikia is a free-to-use site that makes money from advertising. We have a modified experience for viewers using ad blockers

Wikia is not accessible if you've made further modifications. Remove the custom ad blocker rule(s) and the page will load as expected.